I was bored today and looking for a new PSP game to buy later (after Hakuoki, of course), and I happened upon a little bit of news: A new Tokimeki Girl's Side game! I'm pretty late, but... better late than never.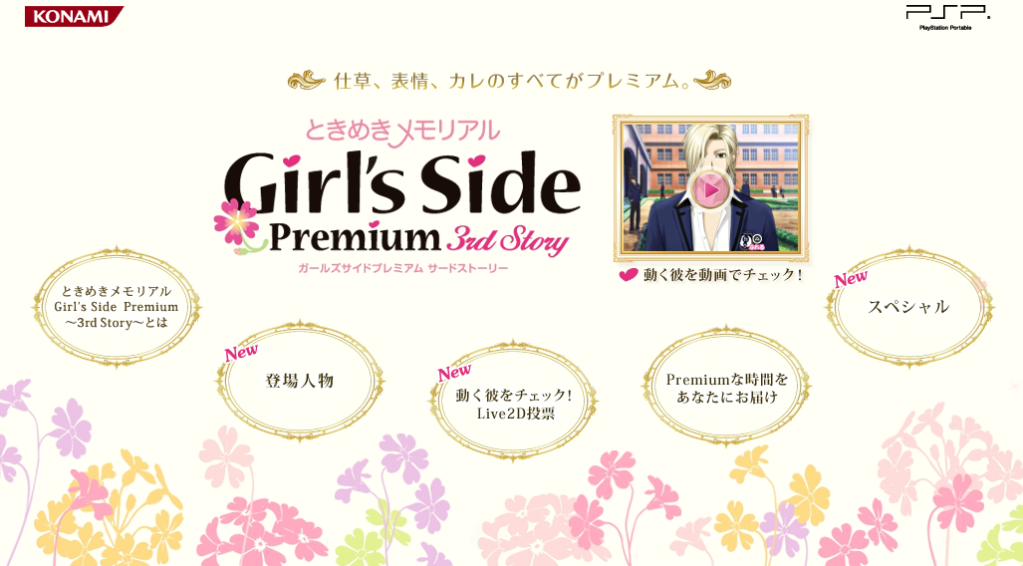 Click to visit their homepage!
On March 15, 2012, Konami is releasing a revamped version of
Tokimeki Memorial Girl's Side: 3rd Story
for the PSP in Japan. The new version is called
Tokimeki Memorial Girl's Side: 3rd Story Premium
, and boasts a few new features. I'm not the best at Japanese, but I got the gist of it, I believe.
The biggest addition in this game is the new Live 2D feature! The characters still have a 2D anime style, but are animated. I find it a little odd, but I think it's tons cooler than staring at a static image all day. It adds a tiny sense of realism to the game.
Since there's no touch screen, it seems that Skinship has been altered a little. It's now called Approach Mode, and as far as I can see, instead of using a stylus, you just hit certain buttons depending on the scene and boy's expression, and how you want them to react. You can smile at them, tease them, stare, etc and use the little joystick thingy to move it to where you want to touch them (not creepy at all!). It seems to be the exact same thing as the old games, but in a new style.
The most interesting feature for me is the new
Kimagure Play
! Instead of being the typical sweet Mary-sue you are, your choices and actions are split into two: Angel type and Little Devil type. The dialogue and how the boys feel about you changes depending on which option type you pick. Since I've been waiting for at least a
little
hint of personality for the protagonist, I'm hoping I'm not let down.
The last new feature is the Boys' Life feature. You get to visit each boy's room in chibi form!
Awww
! It's separate from the actual gameplay, and is more like a cute non-playable mini game.
So, I'll be waiting to get this game as well. I'm a pretty big fan of the
Tokimeki Memorial Girl's Side
series.